We provide the most reliable
and secured facilities.
Get to know about SCBD Data Center facilities
Our data center facilities are designed, built, and operates using the highest-quality standards and complies with international benchmarks certification such as ISO 27001, PCI DSS and Rated 3 Certification.
Well-designed integrated facilities that will greatly support your data storage needs with optimum reliability. At SCBD Data Center, our facilities operate effectively with 24/7/365 monitoring from our professional team, thus minimizing potential risk and issues on your company's most important assets.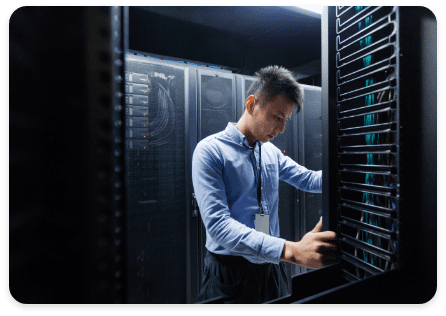 We focused on key components such as electrical power, cooling systems, security system, DC cabling, and fire protection when building our strategically located data center. Power redundancy, strong network backbone interconnectivity, efficient cooling system, and strong security policy and compliance are all important aspects of our facilities.
It is our responsibility to safeguard your data running 24/7/365. SCBD data center excellent facilities aim to give you peace of mind when building your business in the digital world effectively.
SCBD Data Center Facilities
Our main facilities will support businesses thrive in the digital world without boundaries. We are here to support your business operate optimally and efficiently.
Power source and connection that are reliable and redundant are absolute requirements when we built our SCBD Data Center. Our main source of electrical power are coming from our trusted and reliable State Electricity Company (PLN). Our design of N+1 redundancy plan are equipped with the best backup generator system available along with Data Center Continuity (DCC) rate capability to support operational capabilities to keep running and minimize the percentage of downtime. Our N+1 Uninterruptible Power Supply (UPS) system that we have implemented also provides guarantee of high stability and reliability.
2N power redundancy from State Electricity Company (PLN) • N+1 Genset
N+1 Genset
N+1 Uninterruptible Power Supply (UPS)
Fire suppression systems installed at each point of the Data Center area. VESDA (Very Early Smoke Detection Apparatus) will also be able to detect smoke occurrences optimally with fire extinguisher to extinguish any incidents as soon as possible. Inert Gas IG-541 with the composition of nitrogen and other appropriate mixtures are in place to extinguish fire at the location not exposed to water. This fire protection becomes a very important component to stand by under any circumstances.
VESDA (Very Early Smoke Detection Apparatus)
Fire Extinguisher
Innert Gas IG-541
Water with Dry Pipe System